Locating the Ideal Mortgage Loan – Pioneer Mortgage Corp can help
Shopping for a mortgage? We'll be glad to talk about our mortgage offerings with you. Call Matt Downing at 781-245-4924 or Mark Liteplo at 781-246-2726 to get started?
Deciding to buy a house or refinance a mortgage is an important step. Let us find the loan program that's the best fit for you. We have a team of professionals to guide you through this important financial decision. For assistance in locating the perfect program for you, you can call 781-245-4924.
Although buying a new house may increase your anxiety, it will also bring a wonderful feeling of accomplishment. You didn't search for a home that was ideal for someone else; you looked for the one that was best for you! Our trusted mortgage experts can help you select the mortgage program that best fits your needs, too. Getting the best mortgage loan can be as fulfilling as receiving the keys to your new home! We can help you get there. Contact us at 781-245-4924.
Refinancing options
If you dread all the paperwork that you assume will come with refinancing, we've got great news! Let us show you a frustration-free process from application to closing with our "Less paperwork and more personal service" promise. We can guide you through the process and make it anxiety-free to bring down your interest rate and monthly payment amount. We can also help you pay down your balance more quickly for a comparable monthly payment. Let our team members help you find the very best refinance loan! We are eager to show you how: 781-245-4924.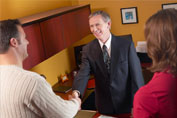 Superior customer care
We give you the individual attention you deserve and treat you right. We know you're making a commitment in buying a house, refinancing, or cashing out your home equity. So here is our commitment to you: we will help you qualify, apply and be approved for the perfect mortgage loan for you.
What's next?
Please explore our website to learn about us, all that we do for you, and a few simple steps to get started. Or, you can call one of our mortgage professionals at 781-245-4924. We are here to assist you any way we can.